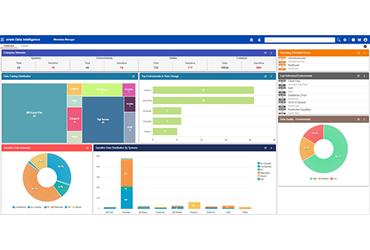 erwin Data Intelligence by Quest helps leading organizations worldwide to discover, understand, govern and share the high-value trusted data to make the most business impact. The software offers data catalog, data literacy, data marketplace and data quality capabilities to give IT, data governance teams and business users alike greater awareness of and access to data and related assets, guidance on their use, and guardrails to ensure data policies and best practices are followed.
Know what data you have, where it is, what its quality is, where it's been and how it transformed along the way. Understand whether there are any sensitivities or risks, and who has permission to use it and why. The answers to these questions are key to making your data a benefit, not a burden.
With the automated, metadata-driven framework of erwin Data Intelligence you can:
Harvest data – Automate the collection of metadata from various data management silos and consolidate it into a single source.
Structure and deploy data sources – Connect physical metadata to specific data models, business terms, definitions and reusable design standards.
Assess and manage data quality – Automate profiling and assessment, raise data quality visibility and tackle remediation.
Analyze metadata – Understand how data relates to the business and what attributes it has.
Map data flows – Identify where to integrate data and track how it moves and transforms.
Govern data – Develop a governance model to manage standards, policies and best practices and associate them with physical assets.
Visualize and socialize data – Empower stakeholders to see data in one place and in the context of the business and roles.
Share governed, trusted data -Give data users enterprise-wide one location to shop, share and compare available enterprise data.