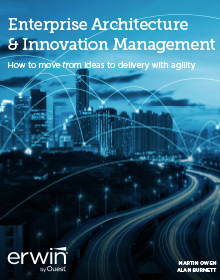 Innovation management is about quickly and effectively implementing organizational goals through the adoption of innovative ideas, products, processes and business models. Enterprise architecture (EA) ensures the process of innovation can be managed and governed as an important facet of an organization's overall function
This e-book, written by Martin Owen, erwin's Senior Vice President of Product Strategy, and Alan Burnett, erwin's Director of Worldwide Partner Enablement, explores innovation management and EA with techniques and best practices they've seen benefit clients during the past 20 years.
Having been involved in EA product management and development at Popkin, Telelogic, IBM and now erwin, they've updated and revised this book to help those who would like to:
Understand how to capture and support innovation within your organization, whether you're a business owner, enterprise architect, line of business manager or process owner.
Better utilize EA and demonstrate its value.
Grow your innovation management and/or enterprise architecture practice.
Combine agile techniques with EA best practices for greater agility.
Use innovation management and EA in conjunction but are unsure of the benefits or approach.
See how EA could be more closely aligned with project delivery.
To drive business growth and maintain a competitive advantage, innovation needs to be discovered and implemented quickly but with care to ensure maximum value. EA ensures a good idea can be implemented successfully, providing guidance and facilitating enterprise collaboration for impact analysis and sound decision-making along the way.