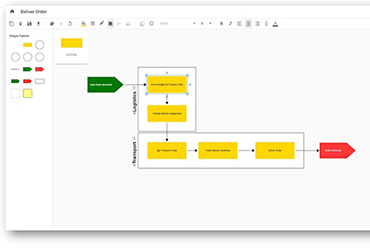 erwin Evolve by Quest is a full-featured, configurable set of enterprise architecture and business process modeling and analysis tools that turn artifacts into insights and opportunities into realities.
Whether you're documenting systems and technology, designing processes and critical value streams, or managing innovation and change, erwin Evolve will help your organization become more agile, adaptive and intelligent in taming complexity and increasing operational efficiency. Its unique advantages include:
Integrated, web-based modeling and diagramming that's easy for both technical and business stakeholders to use
High-performance, scalable and centralized repository supporting thousands of global users
Configurable metamodel, frameworks and interface for an integrated, single source of truth with different views for different stakeholders based on their roles and information needs
User-friendly visualizations, dashboards and diagrams to view mission-critical data in the central repository
Synchronization of data with other enterprise applications and third-party tools
erwin Evolve is also part of the larger erwin EDGE by Quest platform with data modeling and data governance software, including data catalog and data literacy capabilities. With data-driven intelligence, everyone has the information they need to make smart decisions.